Commentary By: Albert Mascheroni
Skull means death is coming. Hurricane Matthew…Matthew 24 warnings. There are no satellites that take aerial imaging…there is just their sadism. I saw red & black in my dreams everywhere. I saw newspaper headlines that read "Illuminati Take Over." I saw this not too long ago. It will come to fruition, but I've warned you.
View full post at: https://www.facebook.com/al.masch.50/posts/592242630955421
Commentary In Response to Article By: Amber Powell
LOUISVILLE, KY (WAVE) – A satellite image of Hurricane Matthew was posted on social media on Tuesday & it's 1 of the creepiest things we've ever seen. Stu Ostro, the senior director of weather communications & senior meteorologist at The Weather Channel, posted the image on Twitter.
So what's so creepy about it? It looks just like a human skull!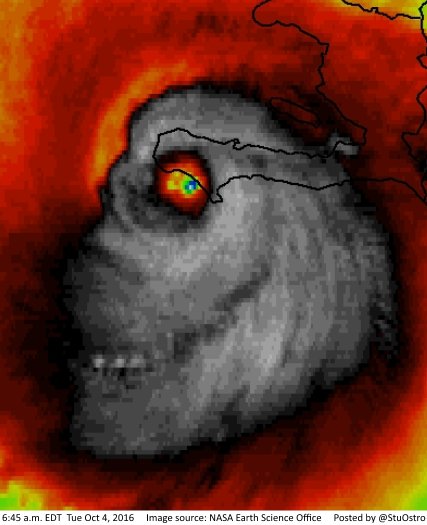 Ostro's caption reads,
"Sinister-looking face of #HurricaneMatthew at landfall in #Haiti [Un-doctored #weather #satellite image]."
The image was taken as the eye of the storm crossed Haiti's southwestern coast. The post has been re-tweeted & liked by 100s of people.
Read full article at: http://www.azfamily.com/story/33317197/creepy-satellite-image-of-hurricane-matthew-resembles-human-skull